2013 Summer Vacation
July 29 to August 11, 2013
This year we had no plans for summer vacation other than the Bird Reunion in Saskatchewan. So, we spent the first night camping for free in the Chase Safety-Mart parking lot with Grandma and Grandpa Scott, as Jessica was going to travel with them. Our second night was again spent with Grandma and Grandpa, at Ghost Lake Reservoir.
The next day we had a very short drive into Calgary to Kristiana and Joe's for dinner and a dog walk, while Jessica and Grandma and Grandpa went north to Devon.
The following day we went north to Bonnie and John's in Edmonton for dinner and a walk around the lake.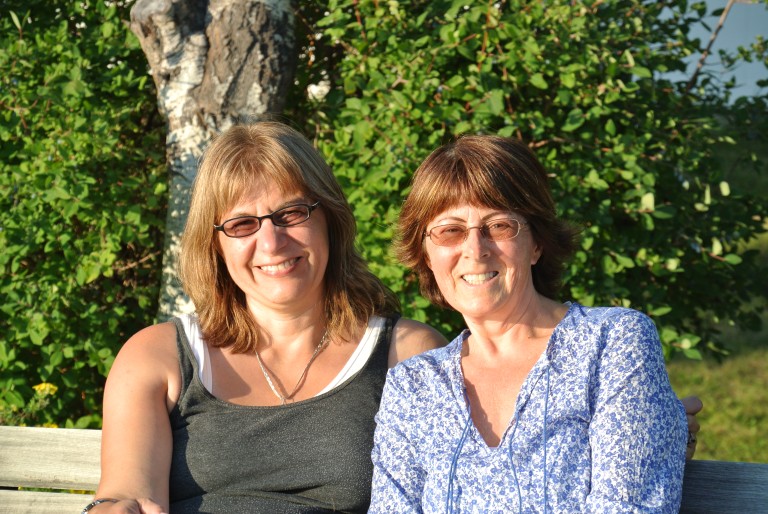 Since we did not make our own plans as we originally thought we would, we joined Grandma and Grandpa and Jessica in Mallaig for Haying in the 30s, where we were to see Jenna and Miah. The GPS took us down a gravel road but it was a quicker gravel road than Grandpa took. At the entrance, Jim followed someone who looked like he knew where he was going. He did, but he was going to the horse and wagon area.
While Jim was turning around, Grandpa took the correct entrance and beat him to the overflow camping area. While we were discussing our wrong turns, we saw Glen, Susan, Kayla, and Melissa arriving on the paved road we should have taken.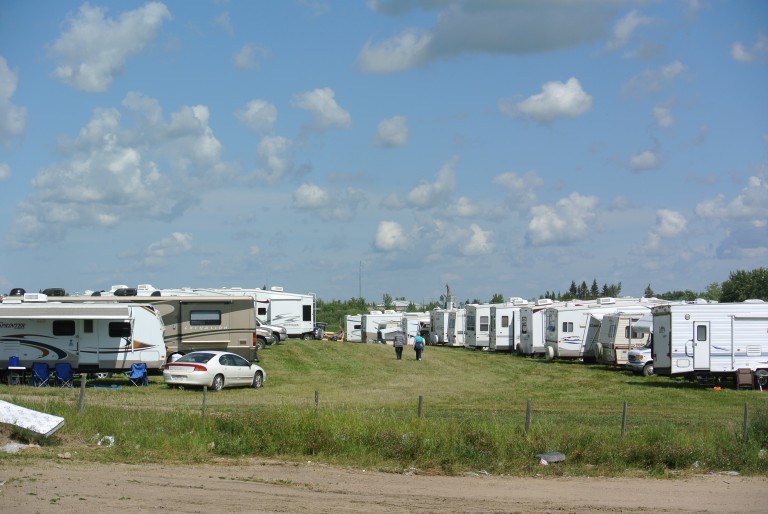 The next morning, tractor-pulled wagons dropped people at the parade area. Glen is on this one.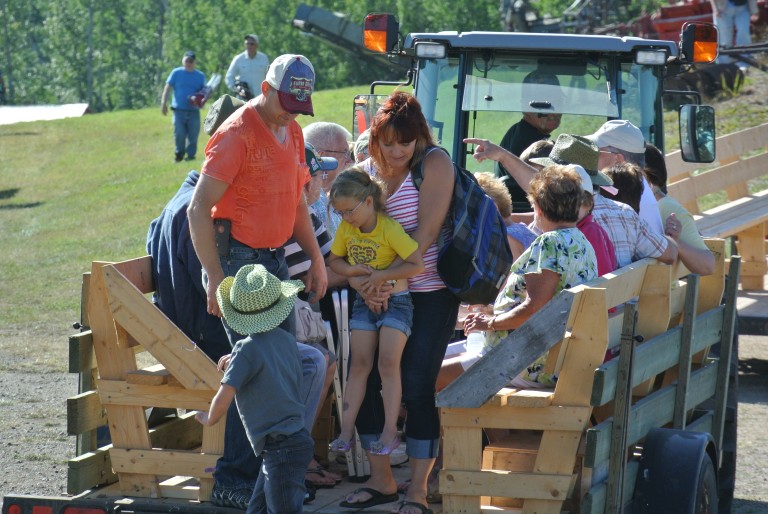 The parade and opening ceremonies started at 10:15.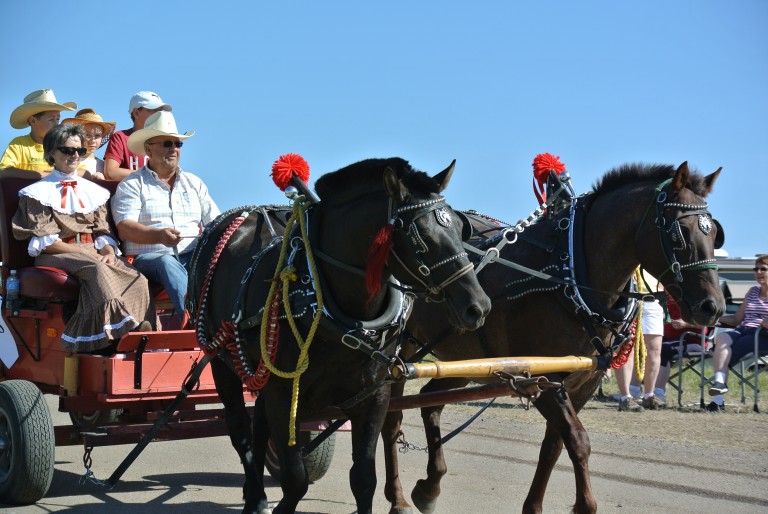 Lunch and all the following meals were served at the town hall. Meals, camping, and admission to all the displays were by donation.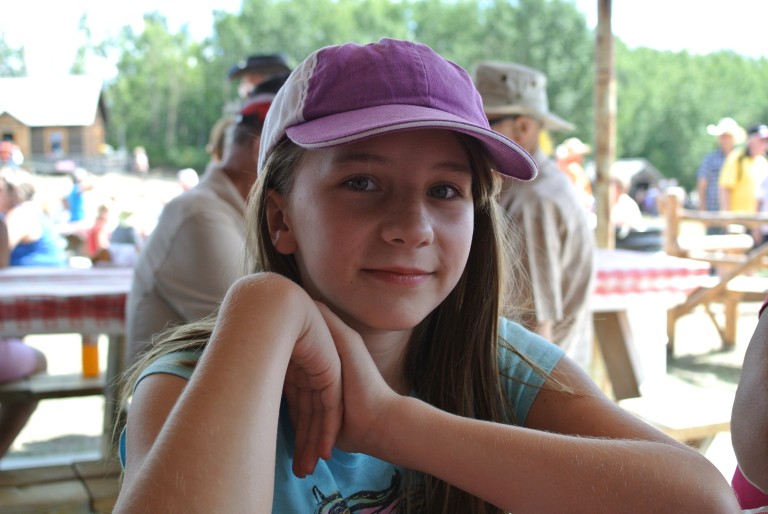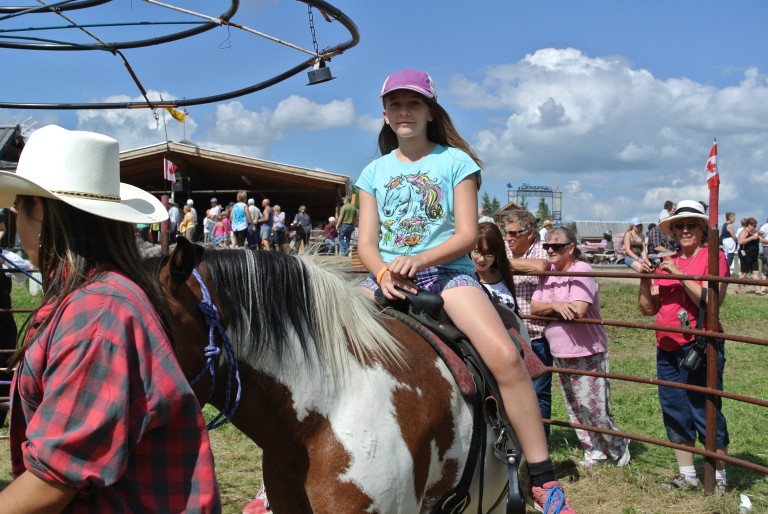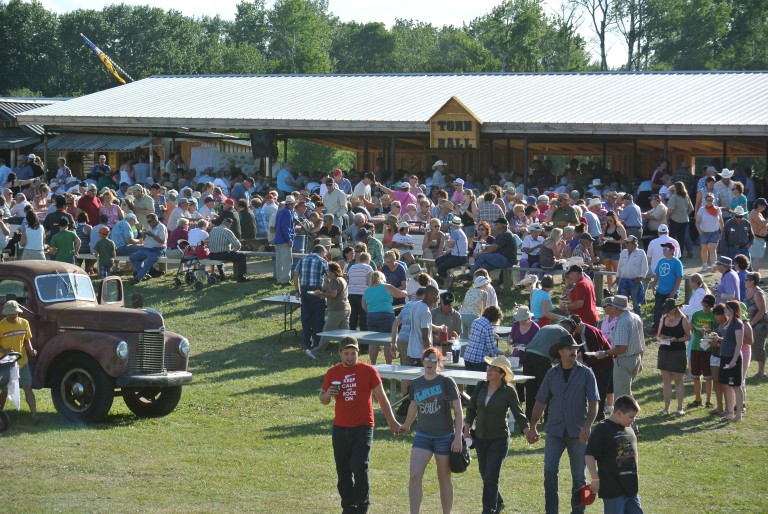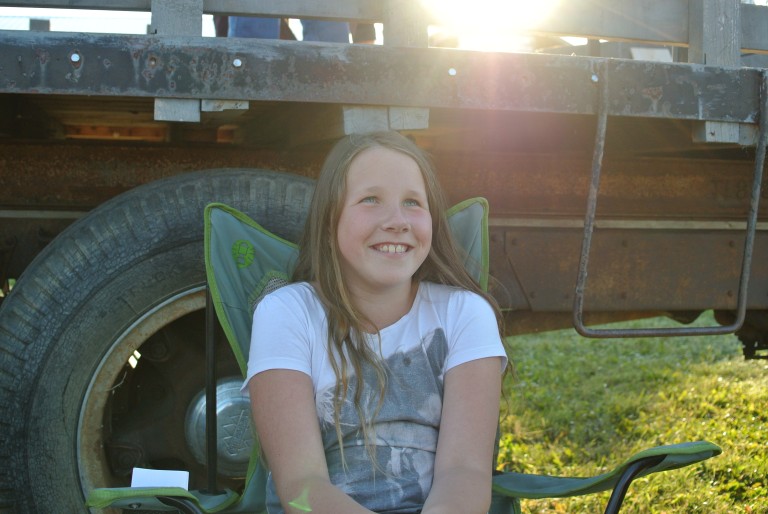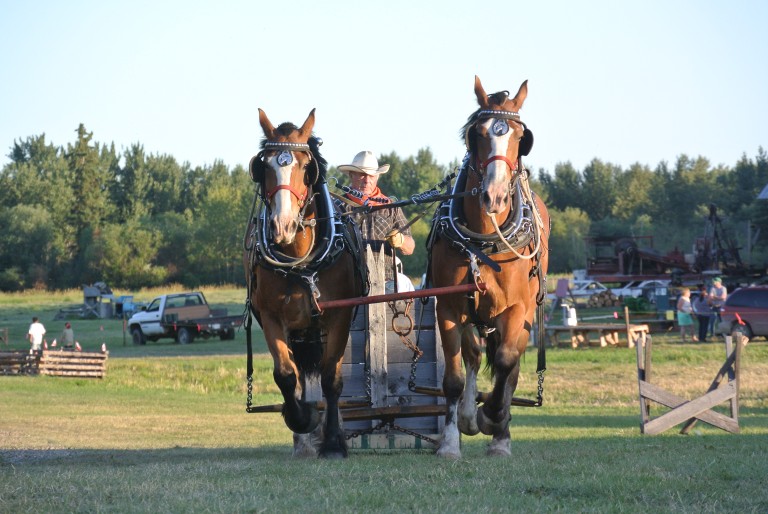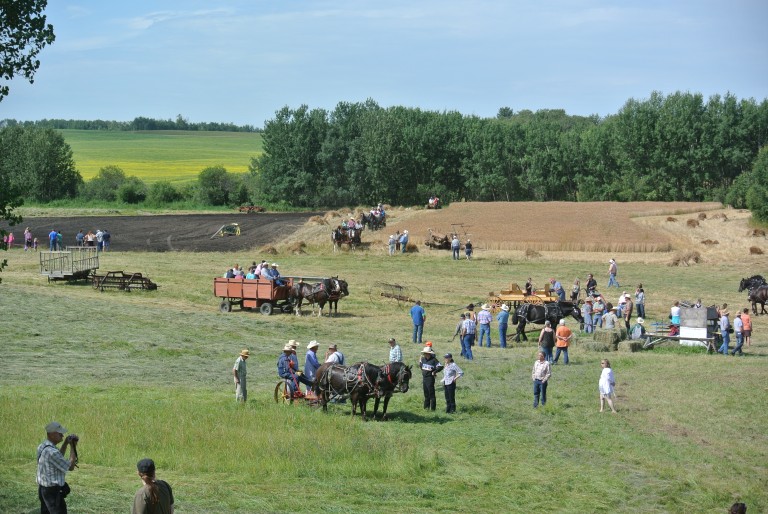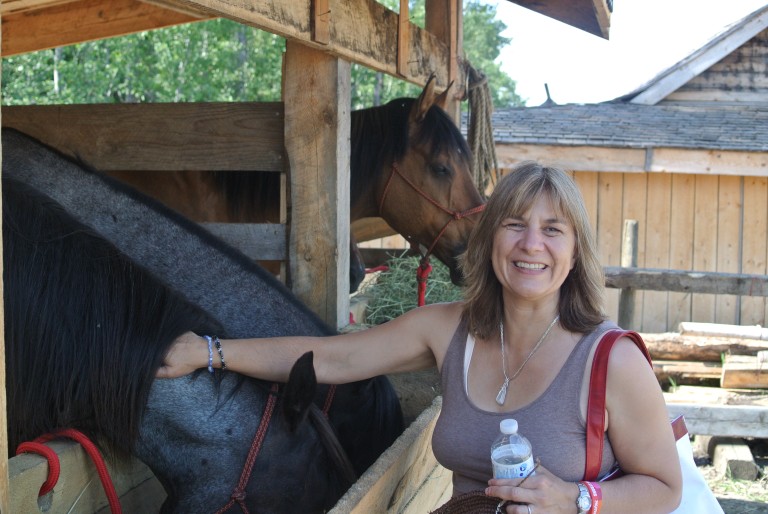 In the afternoon we left for Meadow Lake Provincial Park. Again we did a lot of unnecessary gravel road driving.
Because we only reserved a couple of days before we left, we had to switch sites for the second night. While we were preparing to move, the site cleaner came past with a large blaze going in the back of his truck. Luckily, he managed to get it under control and clean our new spot before we arrived.
We kicked the girls out of the lake when the lightning was within 5 kilometers.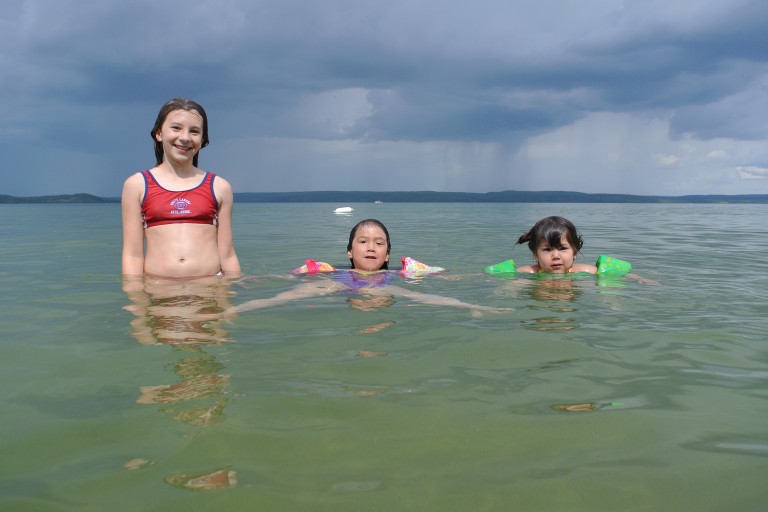 After navigating the freshly graded muddy road out of the park, we made our way to St. Louis. The Bird Reunion took place at the St. Louis Hall and included a candle lighting, a horseshoe competition, Eric Corrigal's petting zoo, some baseball, and lots of visiting.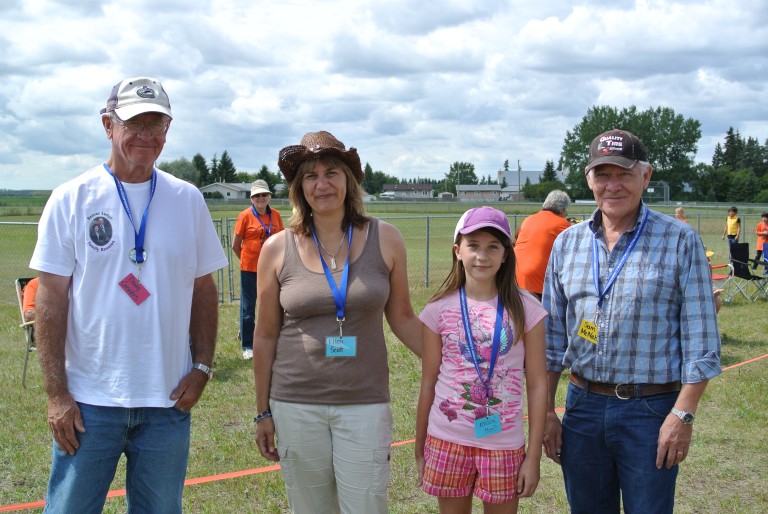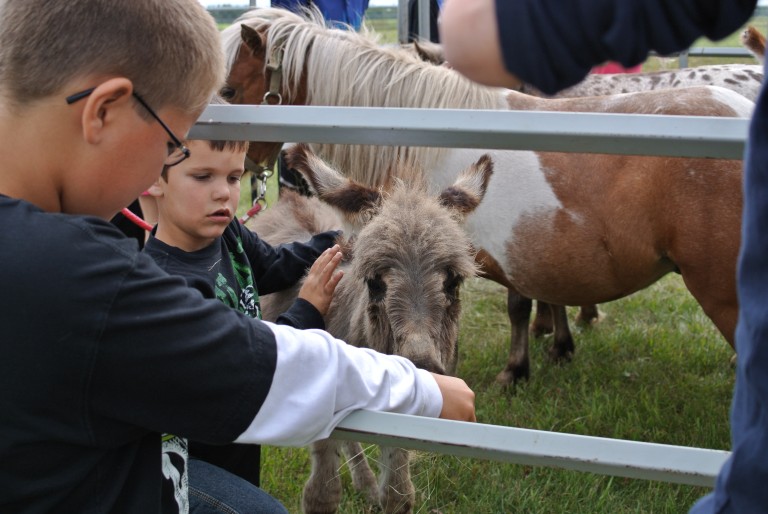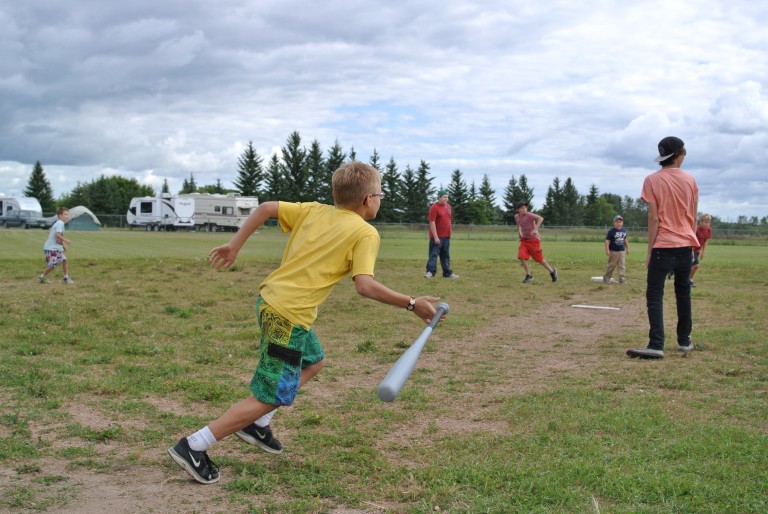 One third of the way home from St. Louis is Hanna, Alberta
Two thirds of the way home is Canyon Hotsprings, near Revelstoke, BC. We got kicked out of the pool after two minutes but we were patient and eventually got back in. However, it's hard to relax when you're counting the seconds until the thunder.