Christmas in Anglemont
December 22-29, 2001
This was the first Christmas we spent at Grandpa and Grandma's house in Anglemont.
After decorating the tree, we took a family picture.
Grandpa and Rebecca cleared the deck of snow.
Jim took advantage of the clear skies before Christmas to take some moon pictures. However, the skies were cloudy for the occultation of Saturn on the 28th.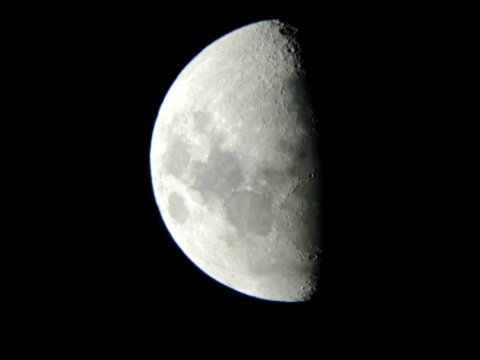 Everyone had fun opening gifts and making our own "Twelve Days of Christmas" based on all the duplicate gifts.
We also enjoyed playing many games of Clue, Uno Stacko, Rummoli, Stock Ticker, and Balderdash.
Glen and Zachary, the high tech duo, were the only ones to play StarCraft and Advance Wars.
A young eagle stopped fishing to pose for a photograph on the 27th.
The only fresh snow we received all week arrived on the day of our departure. We made it to Kamloops, but the slippery Coquihalla forced us to spend a night in Kamloops. We had a nice walk in the fresh snow, then went home the next day.